Anxiously waiting for the doors to unlock, these lines were started way before the employees ever grabbed their first cup of coffee. What are they all waiting for? The new arrival of iPhone 6 and iPhone 6 Plus which sold 4 million phones on the first day. We could go into the details of the new latest and greatest from Apple but why? We would rather go into what Apps you should be downloading on your new technology to keep you body in proper condition. We searched for the top 10 and this is what we found.
Want to lose weight? Boost your endurance? Get the download on the best fitness apps. From fitness games and competitions to workouts and meditation tactics, these iPhone apps will offer the support, motivation and challenges you need to stay on top of your health and achieve your fitness goals.
Here are the Most Recommended 15 Fitness Apps for the IPhone.
Want to see what it's like to run the Boston marathon? The Virtual Runner app takes you virtually to some of the most iconic race courses while you run on the treadmill. It's simple. Once you download the app, select which course you'd like to run. Download the video to your iPad or iPhone, hop on the treadmill, press play, and start running. Check out the TD Beach to Beacon 10K trailer.
Note: Because the videos require lots of storage, it's best to download the videos on your computer and then manually select which ones you'd like on your iPhone/iPad.
This app is definitely a different way to get motivated to run. Put your headphones on, press start, and start running. And that's when you'll hear them…ZOMBIES! This app is a running game and audio adventure, co-created by award-winning novelist Naomi Alderman. As you run, you'll dodge zombies and follow orders from the voice recordings. Before you know it, you will have just completed a successful run.
Charity Miles is a free iPhone/Android app that enables you to earn corporate sponsorships for charity whenever you walk, run or bike.
Participating charities include:
Feeding America
Girl Up
Habitat for Humanity
Ironman Foundation
Leukemia and Lymphoma Society
Stand Up to Cancer
Wounded Warrior Project
Get the support and inspiration you need to start and finish your 5K journey. Train for 30 minutes a day, three days a week for nine weeks. Utilize various training tools, music-sync programs and virtual coaching to run 3.1 miles.
Training for a marathon? Need a little extra push? Ghost Race Pro lets you train against a competitor. Set the distance and pace that you'd like to beat, and the app will let you know if you're ahead or below your goal. It will tell you to pick it up when you need to. Monitor your progress and other fitness activities with the built-in storage log.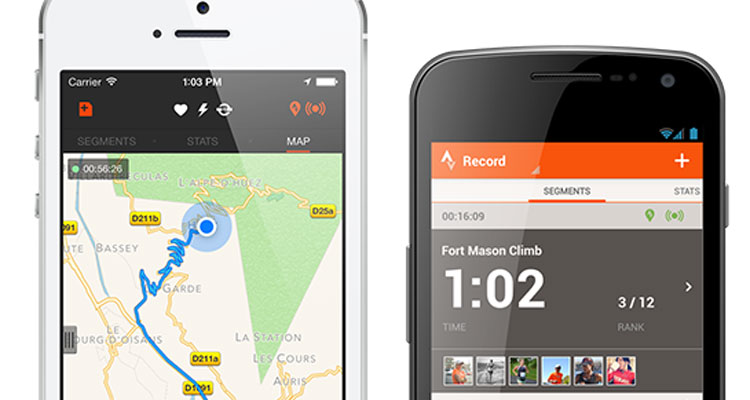 Pinterest.com
Track all of your runs and rides as you reach your personal best. It's easy to use. Grab your GPS device, head out for a run or ride, and view your activity on Strava. You can earn badges for completing certain challenges or compete with other Strava users through social media.
If you have a Fitbit product, then this is a must-have app. The Fitbit app uses Bluetooth technology to automatically sync your tracker's data to your phone so you can see your latest stats. Track your daily goals, steps, calories burned and sleep to help you reach your goal. It's simple to set up, use, and read, which makes staying on top of your health easy and stress-free.
Whether you're a newbie or veteran, this yoga app is perfect to take your practice anywhere. There are over 16 hours of ready-made classes for any level. Classes range from 15 to 60 minutes and offer modifications if you need them. It's one of the best ways to keep practicing when you can't make it to a yoga studio.
Break out of your normal fitness routine and join the dance party. Zumba Dance is a fun and energizing dance class with Latin beats. There are three pre-programmed classes: Party, Exhilarating and Pulse-Pounding. You can purchase 20- to 60-minute routines. Learn basic steps with the tutorial mode, and stay motivated with the progress tracker, which helps you create your fitness goals and tracks calories burned.
A good fitness plan always requires an adequate amount of sleep. This app collects data to analyze your sleep and wakes you up in your lightest sleep phase so you feel rested and re-energized. Notice how you sleep when you exercise versus when you don't. You'll be able to see how your daily activities impact your sleep.
To See Full Article Visit Link Below: