Fall weather has started and so have the excuses for not sticking with warm weather workout schedule. Just because the temperatures aren't higher up doesn't mean you grab the remote and wait for the weekend. This article from Abestos.com sheds some light on 10 tips that will help you get past the excuses.
As temperatures start to tumble, and the days get shorter, finding motivation for a healthy lifestyle can be a challenge.
Snow and ice make outdoor exercise staples like running and cycling much more complicated. Chilly temperatures also call for warm comfort food instead of salads and smoothies.
But that shouldn't mean your fitness goals go into hibernation with the bears. Here are 10 tips we suggest for staying fit through fall and winter.
Generate Body Heat
It's 6 a.m. The skies are dark, and you're cuddled beneath a mound of blankets.
The thought of getting up for a workout can be less than appealing. But once you're started, it's a different story. Give yourself 10 minutes to work up a sweat – along with the permission to stop if you're just not feeling it. Chances are, once your blood is flowing and your muscles are warmed up, you'll want to finish out the session.
Explore Creative Workouts
Several trendy workouts actually incorporate warm environments into their program. Warm restorative yoga is performed in a room between 80 and 90 degrees. Many gyms also offer water aerobics in heated indoor pools.
Embrace Seasonal Hobbies
We hear it all too often: "Working out just isn't fun!" The cooler seasons are rich with opportunities to mix physical activity with enjoyable recreation. Grab your family, friends or caregiver, and looking into options such as ice skating, sledding or snowshoeing – and don't forget about a classic snowball fight!
Moisturize, Moisturize, Moisturize!
If you do expose your skin to the cool conditions, be sure to replenish lost moisture once you step back inside. Lightweight, fragrance-free lotions (or coconut oil, if you'd prefer a natural option) should be a staple in your skincare routine.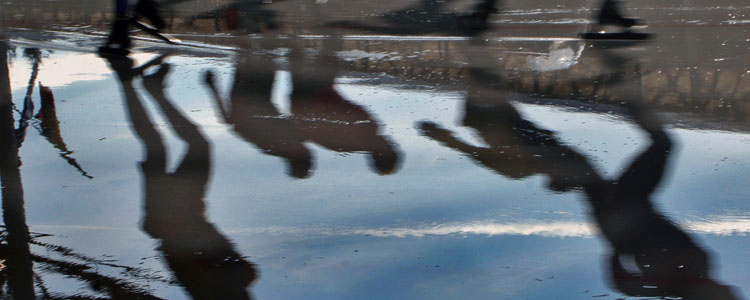 Make Friends with Wicking Fabrics
Summer's cotton tanks have no place in your winter wardrobe; the same goes for your workout apparel. Loose, lightweight gym essentials should be replaced by wool and thicker synthetics; be sure to look for a wicking fabric, which draws moisture from the skin, to keep from chafing.
Stay Visible
Many exercisers love evening walks, especially once the holiday decorations go up around the neighborhood! If you choose to head out after sundown, bright colors and reflective wristbands are a great way to stay visible on those early winter nights.
Eliminate Excuses
Excuses are especially abundant during fall and winter: "It's dark out by the time I'm done with work and I have family responsibilities!", "The roads are covered in snow, and I'm afraid of slipping!", and "It's so cold out, I'll catch a draft!"
Instead of letting these challenges derail your fitness plan, look for creative ways to work around them. Too dark to hit the trails in the evening? Set the alarm an hour earlier in the mornings. Icy concrete is too slick to walk on? Look for a local high school track with public access hours. There's a solution for every roadblock, if you commit to conquering excuses.
Stock Home-Fitness Essentials
Sometimes it just isn't practical – or safe – to drive to the gym in snowstorms or similar conditions. For days like these, keep a few essentials in a spare bedroom or basement. You don't have to splurge on a $1,000 treadmill; a jump rope, yoga mat and pair of hand weights is more than enough to piece together a half hour home workout routine.

Turn Holiday Treats into Pre-Workout Fuel
Tasty holiday temptations don't have to undo your healthy eating efforts. Take the flavors you love, and turn them into a pre-workout snack. If you tend to splurge on eggnog, make a pre-workout smoothie with Silk brand eggnog-flavored soy milk. If you love candy canes, crumble a peppermint into a bowl of granola and sprinkle over yogurt. A small hint of the flavors you love can make a boring meal into a much more appealing one!
Set Your Sights on a Spring Fitness Goal
Sooner than you know, the frost will have thawed and the holidays will be over. Set your sights on a spring event – such as a one-mile fun run or 5K walk – and build up to it one workout at a time.
A clear goal and timeline will motivate you to make the most of your fall and winter.
Check out the full article from Asbestos.com